Stacked was the first new place we ate at in San Diego! (By "new", I mean some place I've never eaten at before!) This particular branch can be found in Fashion Valley.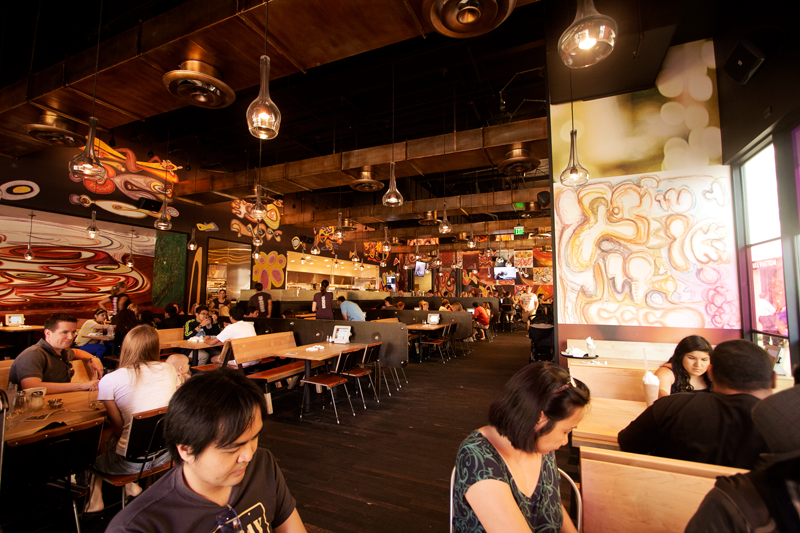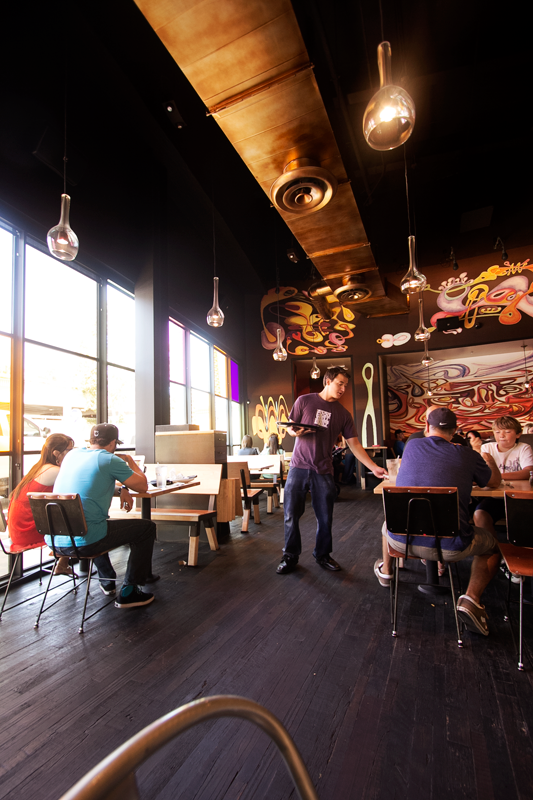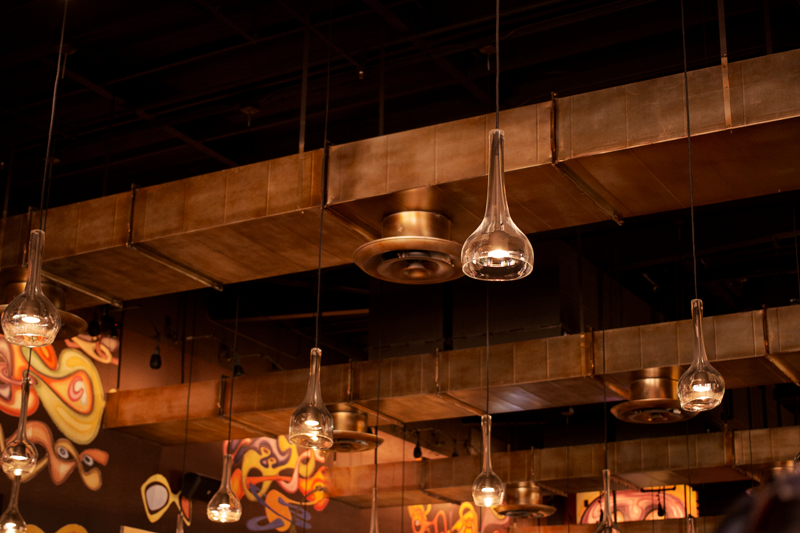 Upon entering, the place really captured my interest! It was pretty quirky, with all the colorful wall art, and the light fixtures, and I like the benches too.
With all the new technology popping up like mushrooms these days, it's pretty inevitable for modern food establishments to get with the program and put it to some good use for their business. I've only ever seen Ramen Bar in Eastwood here in Manila make use of an iPad as a menu, but it was limited to only showing photos of the food they serve, and nothing as advanced as what Stacked had (though you have to give Ramen Bar some credit).
The iPad available at Stacked served as your digital menu + waiter/waitress. You pick out the food you want to order and customize it to your liking. When you're ready, just click "Send to Kitchen"! The nice thing about it is that it doesn't eliminate the need for real human beings (thus not reducing the number of available jobs for people, I guess?). There are people who still come to your table to make sure you're all set with your order, they bring you your food from the kitchen, and come over from time to time to ask if you're enjoying your meal. Fear not, looks like robots won't be taking over humans anytime soon.
Paying for your food is also done with the iPad. They've made an attachment to it where you can swipe your credit card and sign on the iPad as well! We didn't pay with cash, but I'm assuming this is another instance where someone will come over to your table to collect your payment. But anyway, having something like this is a pretty nice setup, and I hope we see this here in Manila soon! I'm pretty sure it's bound to happen eventually, but not necessarily in the span of a year.
But lets move on to the most important aspect of this post — the food!
We started with some homemade crisscut potato chips and cheese fries. SO GOOD! There was a point where we wondered how they made the potato chips, so my aunt asked one of the waitresses how it was done. Hahaha!
Did I mention that the fries were SO GOOD?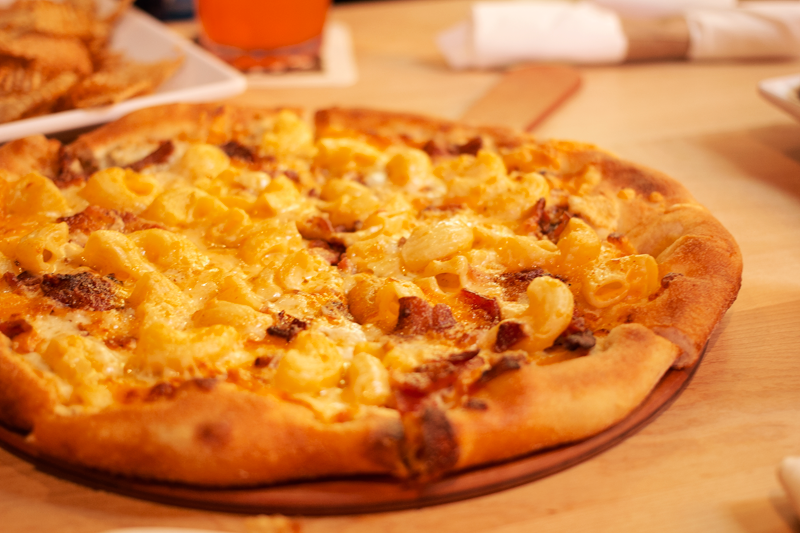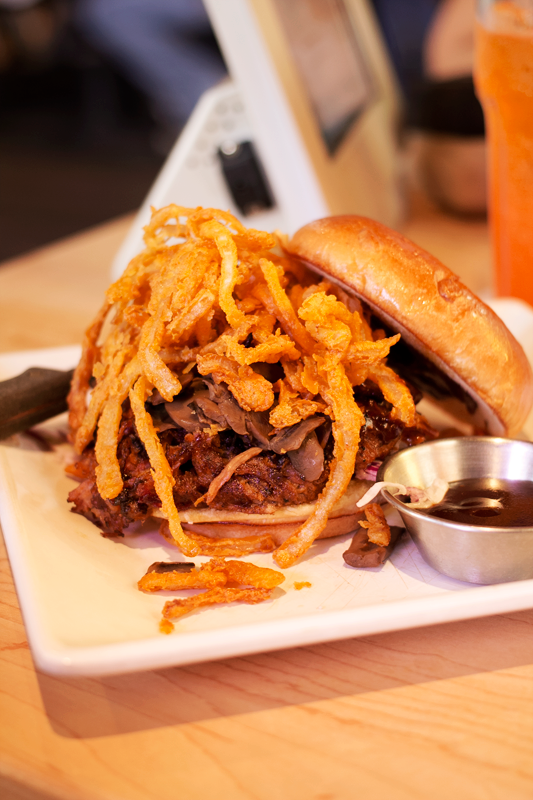 Stacked serves up the usual — pizza, burgers, salads — but with a little twist. I'm a fan of pizza, and I'm a fan of macaroni and cheese. It was to my utter delight that they had a mac 'n' cheese pizza! Punched it into the iPad so hard, I'm surprised the glass didn't break. That burger was my brother's order. What you're seeing are onion strings (not rings!), giving that burger a nice crunch.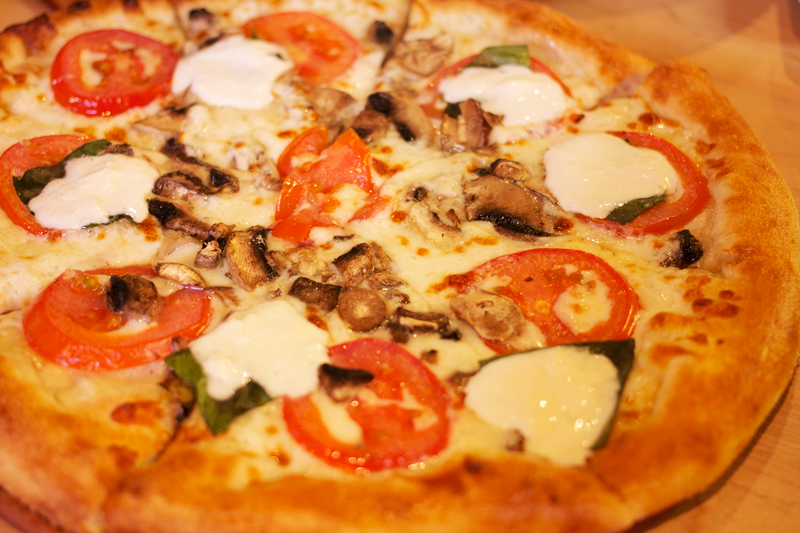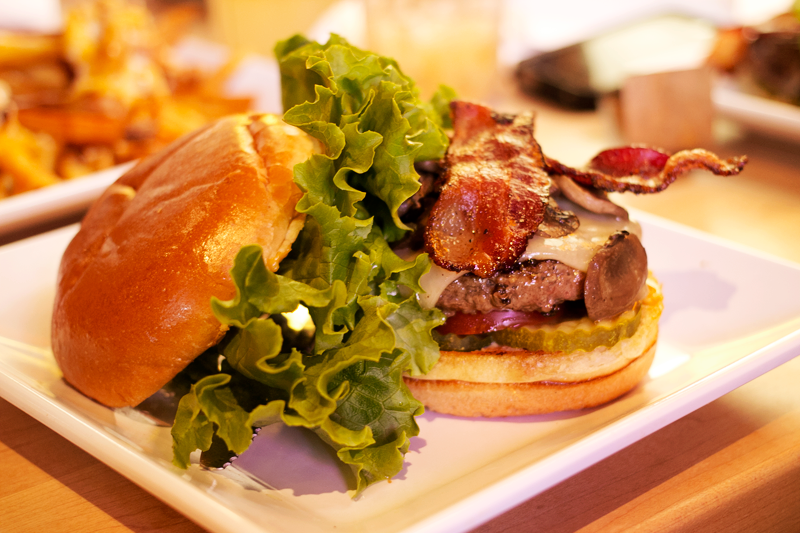 I really have to stress that one of the great things about Stacked is they give you the freedom to "build" your own food. From your pizza, to your burgers, and even to your dessert! I wasn't able to take a photo of the sundae that my sister ordered, as she immediately attacked it when it arrived at the table.
So as you can see, it's pretty much like smashing together the food you love all onto one dish, with it still looking extremely appetizing. Stacked has brilliant branding, and I greatly admire it. From the name itself, Stacked, referring to how you can just pile on ingredient after ingredient after ingredient onto your choice of food, translated into a vertically-oriented logo which just pushes the name even further, to their tagline that I completely agree with on all levels — food well built.
(Source: tenderblenderfd.com)